Day 8 Thursday - Eastern Navajo Country
I woke up this morning with the realization that this is my first full day alone and I had no scheduled events whatsoever. I only have to be back here in Grants sometime tonight to get a motel room. Since I don't intend to be near anyplace where I can get a lunch, I will have a decent breakfast before I leave. I use the opportunity of a solitary breakfast to continue my reading in Sáanii Dahataal:The Women Are Singing. Since I intend to be "out of communication" with the world, I also fill up the gas tank before leaving Grants and pickup a few snacks.
When these chores are done, I turn west on I 40 again and return to Thoreau. There I turn north to Crownpoint again, but this time I continue north into the badland territory near Bisti. My first goal is to take the dirt road into the De-Na-Zin Wilderness trailhead, 17 miles up wash. I will be as isolated as I have been in a long time. The day is again perfectly clear and gorgeous. The road goes up the south side of the wash, up a rise labeled on my map Split Lip Flats. Occasionally I can see the mudhills off to the north. I am driving straight toward Huerfano Mountain and the El Huerfano trading post. Directly north is the Bisti oil field. Directly south is Chaco Canyon. When I arrive at the trail head and pull into the parking area, there is no indication that anything else animate is within miles of me. I gather snacks, a water bottle, my books (probably not needed), my walking stick, lock the car and turn to walk into the wilderness area.
I must descent from the "flats" into the wash. The slope is shallow and the "trail" is really non-existant. I turned around to fix in my mind the path back to the car. A few local landmarks, a hillock, a dried yucca stem projecting into the sky, these should be sufficient. I wander slowly down the slope, trying to observe everything in the landscape, each purposeful hole into the sand, each spider web saying, "We can live here and we do." The tracks of sheep can be found scattered over the sandy slopes.
When I reach the wash, the southernmost of a system of washes leading westward from Huerfano Mountain, I am again amongst the layered landscape of bentonite mudhills similar to those near Nazlini. But here there is no petrified wood slowly washing out of the layers of mud. Here there are very thin (1 - 2") layers of hard, dark rock occasionally exposed. These break off into small stones and pebbles that are scattered across the surface, following the flow pattern of the mud. I wander down the streambed(s) among the mudhills, down one branch and up another. Occasionally I check to see that I believe I can retrace my steps (there are no footprints behind me). I also scan the skies, but there are no raptors to be seen. This absence of raptors from their usual haunts at this time of year I had noted once before, on a Christmas trip with four of my grandchildren and their parents to the MuleShoe Ranch Preserve of the Nature Conservancy. A few days after that trip, I learned where the raptors all were and now know that I will see them all in a few days.
After I had wandered up one branch for about 45 minutes, I decided that the better part of valor dictated that I retrace my steps until I again sighted my land marks. Then I could wander another branch for a while. Returning as I came, I found my yucca and hillock on the southern horizon and started off again, this time downstream. The mudhill forms are quite regular here, many layers above the strange forms seen below near Bisti. Here there are no significant harder layers of any substantial thickness to shape the steady erosion caused by the occasional rush of water through this landscape. The water is capable of scouring the land so that no plants of any size can establish themselves here. Only the occasional seed of a tumbleweed makes it in this wash. The sheep have not bothered to descend here. There is nothing for them.
After another half hour, I wander back to the "path" up to the car, but very slowly. I am reluctant to leave the absolute silence that I found here, something so difficult to find even in this country remote from large cities. This silence can be disorienting. Your mind is not filled for you. You must find yourself here. No one will do it for you. When I reached the car, as I was returning my pack and stick to the back of the van, another car came up the road. They passed the trailhead, looking over to see who else had taken this drive, "Crazy bilagáana." Even local residents are few and far between here on Split Lip Flats.
I drove back down the slope to the highway, still solitary, still quiet, but the winter birds were evident here on the higher ground among the grasses. Horned larks and meadowlarks would land in the road and then suddenly take flight as the car approached. I tried to slowly roll toward them a few times, keeping them in my binoculars, but they had their own agenda to attend to and would fly off no matter how slowly I approached. I could see out over the wash to the north occasionally and trace the path of the water.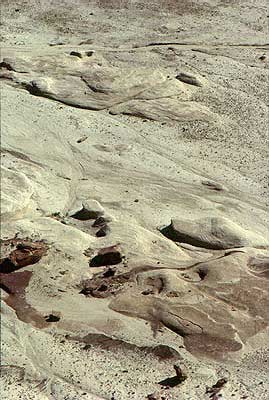 Photograph: Stephen E. Strom
When I reached the highway, I turned north, across the wash and up to the Bisti Wilderness entrance. I parked again and reacquired my pack, water bottle and stick. There were two other cars here, a worrisome sign, but one of the owners was returning from his walk and leaving now. We nodded, acknowledging each other's presence, but not speaking. I saw the occupants of the other car in the distance, so I turned to walk a different direction, keeping the mudhills between us to preserve as much silence as possible.
Here, about 20 miles downstream, different layers were exposed. The dark hard layers were thicker. This region had been threatened not long ago by pressure to mine the coal seen here in surface outcroppings. There are also layers of harder rock which act as cap rock here and lead to the formation of strange semi-anthropomorphic shapes before the mud beneath completely erodes and the cap rock topples. Here I pickup a wedge shaped stone having two smooth, almost planar sides that converge to a line and an irregular rounded surface that connects these planes. The stone is about an inch in diameter, if that term can be used, and it feels good in my hand. I placed it in my pocket and still carry it with me. I find myself rubbing the two smooth, converging sides with my fingers as it sits comfortably in the palm of my hand.
I explore the backs of the mudhills, the side away from the wash. The mudhills are much taller than I am and I feel that I am in a maze. I know that, if I step around to the other side, I will be in the open with the now wide wash before me. After wandering a while, up and down these hills, I do just that. Here the wash is wide and deep; there is a steep drop off at the edge. A lot of water came racing down this wash, eroding large chunks of soil from the banks. The sides have not eroded much since that last rush of water. The edges are still sharp. When water arrives in this country, it certainly draws attention to itself.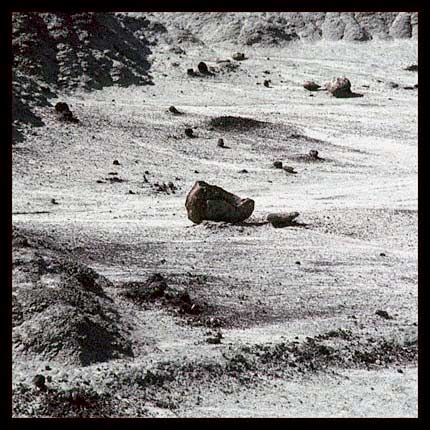 Photograph: Stephen E. Strom
I returned to the car over a wide flat plain, peppered with the relatives of the rock that I have picked up. They appear to be scattered randomly over the surface with only minor concentrations, near the mudhills themselves, in the flow channels. Just beyond the slopes of the mudhills, the water spreads out over the land.
I am near a rough dirt road, always unmarked now, that leads across this land past Burnham, and the continuation of this wash, to Newcomb and US 666, the main north-south road between Shiprock and Gallup. Many years ago, when this highway I am on was only a dirt road, Steve and I saw this road, then having a sign indicating Burnham, and decided to take it. The road tried our confidence in our trusty VW bus in many places, but, in pushing on, we discovered the incredible mudhills to be seen along the continuation of this wash, as it moves down through the layers of earth deposited in this basin when it was a huge inland sea. I have spent many hours sitting here just trying to absorb the beauty and mystery of this landscape, or, on my back, watching the incredible clouds, as they can only be seen from altitudes of 7000´ or higher.
I drove back and forth along the highway trying to decide which of two roads was the "right" one. I finally made a guess and started west on one of the roads. Shortly I was confronted by by another unmarked junction. It looked somewhat familar but I didn't remember which was the correct choice, so I stayed right, the road looked better on that side, and I continued on. Eventually I passed a large open pit which was obviously used by the people living nearby as a source of fuel as much coal was scattered around the area.
While the road was generally straight, there were sudden unaccountable turns. I could not take my eyes off the road too often. When I thought that I must be driving in circles, I finally came upon a small group of buildings that qualified as Burnham, but I had missed the mudhills this time. As with the road to the De-Na-Zin trailhead, this road "parallels" the wash. The presence of the mudhills may pass unnoticed if you are not alert. I was not sure whether I had taken the "wrong" road or was merely lacking a passenger with sharp eyes. I had certainly assured myself of a day of solitude. No one else had followed me onto this road.
Just after passing Burnham, I found that the road had been paved since I was last here. I crossed a wide bridge over the Chaco River and continued west to US 666. Driving over this broad flat plain, I could see Shiprock [Tsí Bit'a'í] to the north, beyond two smaller volcanic plugs Bennett Peak and Ford Butte. Rock Monster Eagle would have had a very good view of anyone moving in this valley!
There were still a couple of hours of daylight left, so I decided to take a road I had never been on. The road to Toadlena and Two Grey Hills continues on the opposite side of the highway, just north of Newcomb. Taking that road would allow me to make a triangular "loop" with two long sides, about 12 miles, first up the eastern slope of the Chuska Mountains to Toadlena and then back down the slope on another road, first to Two Grey Hills and then back to the highway about 9 miles south of where I crossed. This would allow me to stop at the Two Grey Hills trading post, home of a famous pattern of Navajo rug.
The road up to Toadlena from the highway was excellent, wide and well graded. I rapidly and confortably reached the small town high on the side of the mountain. I saw school buses taking the children home using this road also. At the highest elevation (1200´ above Newcomb, there were old stone and newer brick buildings surrounded by chainlink fences, with parking lots full of government cars being locked in for the night. Just beyond this point the character of the road suddenly changed. The road here had not been graded in a long time, and it was much narrower. The road continued on uphill, albeit with warning signs about the condition of the road, but, given the time and my distance from Grants, I decided to turn downhill. The road was no better in this direction. Large rocks protruded from the "roadbed." Since I was headed downhill, I did need any gas, so, with my foot on the brake, I steered around the biggest obstacles and made my way down to the Two Grey Hills trading post. I pulled in here, if only for a break from the driving. I needed something to drink as well.
I learned to relish the experience of being part of a clear minority when Steve and I taught at Tsaile many years ago. It is certainly much more pleasant than being embarassed about being a member of the majority culture and is much more conducive to learning if you allow yourself to be open to the world around you. There was no question that, in the trading post, I was an unexpected shopper. The eyes of the children showed it clearly, but a quick smile will go a long way with a child.
It was now getting late. In order to see the rugs, which were not displayed, the young woman working there would have to go to another room and bring them out. I could not have her do that with no intention (or ability) to buy any. She probably knew that, if she convinced me to look, I would be hooked. After all, not many bilagáana come to Two Grey Hills in January! So I sadly declined, took my cold soda and went back to my car.
Here I had a choice. A well graded road had been made across to the road I had taken up from the highway. The road I had driven downhill on continued on to US 666 and came in about 12 miles south of the point where the "good" road met the highway. Do I take the good road I know or the road I have not taken before? There was really no choice - I headed downhill again on the road untraveled (by most).
The road got no better. If anything, it got worse. Once the car bounced high (at least I did!) and skidded slightly on coming down. I slowed again (it is really pretty steep) and moved around most of the obstacles. As I was looking out over the entire San Juan Basin, suddenly a rapidly moving car was coming uphill toward me. I moved to the side of the road to allow him to pass in a cloud of dust. I could now (after the dust cleared) see cars moving on the highway ahead of and below me.
As I turned on to the Highway and into my first traffic since early this morning, I turned on KTNN for the first time today. Sometime tomorrow I would lose the ability to listen in on the Navajo Nation. I needed to store up the sounds in my head as I drove down the highway past Sheep Springs, Naschitti and Tohatchi to connect with the road to Crownpoint that I had mistakenly been on yesterday. I again drove by Coyote Canyon and Standing Rock and turned at Crownpoint. From here I almost knew my way in my sleep.
Back at Grants, after my spartan night last night, I looked for a more upscale place to sleep. I chose the local Best Western franchise. When I went to find my room, I knew I had made a mistake. I had to enter through a lobby in the rear of the building where loud music was being piped in. I had already decided that I didn't want to eat in their resaturant as I was unprepared to change clothes. My suitcase was pretty empty of clean clothes at this point anyway. Besides, there was a good basketball game on tonight and I wanted to see it. I decided to order a sandwich from room service and just relax in the room. I couldn't find the basketball game that I wanted to see; the selection of channels was pretty poor. The sandwich took forever to come and I had to call room service again to make sure they hadn't forgotten me. The waitress was nice and apologised, but they were evidently hosting a "function" and guests came last. In the morning I would just check out and eat elsewhere!.
Tonight before going to sleep I read one of my favorite poems by Luci Tapahonso, Hills Brothers Coffee.



---
Recommend this website to a friend!
Navajo Spaceships, Star Mountain and Rez Memories, An Online Writing Journal, Prose & Poetry by John Rustywire, Navajo
Subscribe toAmerican Indian Art Magazine
Arizona Highways
New Mexico Magazine

References
Navajo Community College Press.
Trudy Griffin-Pierce, Univ of New Mexico Press.
Geri Keams (Navajo), Caedmon Audio Cassette
James M. Goodman, Mary E. Goodman, Univ. Oklahoma Press
Maureen Trudelle Schwarz, Univ. Arizona Press. (Hardcover)
James C. Faris, Univ. New Mexico Press
New Mexico Press
Sol Worth, John Adair, Univ. New Mexico Press
Kathy Eckles Hooker, Helen Lau Running (Photographer) , Museum of New Mexico Press
David Grant Noble, Northland Pub.
Fran Kosik, George Hardeen, Creative Solutions Pub.
Douglas Preston, Univ of New Mexico Press.
Books on Navajo Rug Weaving
Dilys Winegrad, Lucy Fowler Williams, Joe Ben Wheat (Contributors), Univ. of Pennsylvania Press.
Ann Lane Hedlund, Denver Art Museum.
Roseann S. Willink and Paul G. Zolbrod, Museum of New Mexico Press.
Eulalie H. Bonar (Editor), Smithsonian Institution Press.
Books by Luci Tapahonso
A Breeze Swept Through, Univ. New Mexico Press.

Sáanii Dahataal: The Women Are Singing, Univ. Arizona Press.

Blue Horses Rush In, Univ. Arizona Press. (Hardcover)

Children's Books

Navajo ABC: A Diné Alphabet Book, Eleanor Schick (Illustrator), Aladdin. (Hardcover)

Songs of Shiprock Fair, Anthony Chee Emerson (Illustrator), Kiva Pub.
Music & Videos


See the new Desert Places Series from the University of Arizona.

Find more books on the Navajo Tribe.

Visit The Sonoran Desert 5000 square miles of silence.

Back to Day 7

Table of Contents