Day 5 -- Monday -- Chinle to Gallup
This morning ['abíní], Monday [Damóo biiskání], we had our last breakfast [abínígo da'adánígíí] at the Thunderbird and therefore our last chance to look at the miniature rugs [diyogí] while we ate. I chose my two [naaki] favorites and, after breakfast [abínígo da'adánígíí], we went over to the gift shop to purchase those things that we felt we could not leave here without. I purchased those two [naaki] miniature rugs [diyogí] as well as some small gifts for my grandchildren [atsóíké & análíké].
We then drove out (on another gorgeous, clear Arizona [Hoozdo Hahoodzo] winter [haigo] morning ['abíní]!) along the north [náhook-s] rim drive (also known as Navajo 64) toward Tsaile [Tsé Biihílí], home of Navajo Community College [Diné bi'ólta' hódahgoígíí]. I drove Lori through the campus, showing her the modern hogans [hooghan] in which we lived when we taught Upward Bound Math classes there for two [naaki] summers [sh9 sh99go]. I also showed her the multistoried, glass hogan [hooghan] which houses the college administration and a Museum of Navajo Culture and History.

We would return there later in the day, but now we turned north [Náhook-s] on Navajo 12. We turned at Lukachukai [Lók'aa'ch'égai] and drove through the town and up toward Buffalo Pass on the road ['atiin] over the mountains [dzi[], past many summer sheep camps and eventually to the town of Red Rock [Tsé [ichí dah'azkáni] and thence to Shiprock [Tsé bit'a'í]. We did not go nearly that far today. The road ['atiin] is narrow, passing through the layers of red [[ichíí] sandstone that make up the lower levels of these mountains [dzi[] and up into the lava, showing the evidence of recent volcanism in this area. The plants [nanise'] changed greatly as we went up as well, passing from a sagebrush [ts'ah] covered plain [halgai] through scrub oak [chéch'il nit['izí] into juniper [gad] and cedar [gad ni'ee[ii]. We decided to turn around when the road ['atiin] abruptly narrowed and snow [yas] patches were seen on the roadside. At that time we were in a forest of piñon trees [chá'o[] growing out of the steep tufa mountainsides. We drove back down to Lukachukai [Lók'aa'ch'égai], seeing the entire countryside spread before us in its soft hues of pink [dinilchíí], green [tát['id] and gray [[ibá]. In town we wanted to visit the trading post [naalyéhí báhooghan] that had been advertised on the newly painted signs. It was not open and didn't look like it had been for a while. We did stop at the store, to the great amusement of the locals. I purchased some posole (dried) to bring home but couldn't find the right size batteries [beeni dildlaadí biihná'ni[í] for my flashlight [beeni dildlaadí]. They didn't seem to carry supplies for the high tech varieties of flashlights [beeni dildlaadí], only the old standbys. Lori bought a cold drink for the road ['atiin].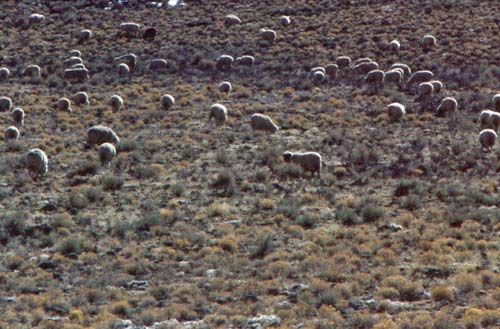 From Lukachukai [Lók'aa'ch'égai] we drove north [náhook-s] to the Round Rock [Bis doot['izh deez'áhí] turnoff, then past the town and up through very colorful mudhills onto a high plateau.Then we took an excellent dirt road ['atiin] back through a very open grassy plain [halgai], used for grazing sheep [dibé], and bounded by beautiful red [[ichíí'] sandstone buttes. We took the road ['atiin] as far back as we could, almost to the Cove Mesa [Chooch dínéeshzhee'], until it ended at a group of hooghans and corrals [dibé bighan]. We reluctantly turned around there and slowly drove back, examining each alcove for evidence of previous habitations (finding few) and asking why we must ever leave this paradise where time moved at a human pace. Even travelling very slowly, we were stopped twice for flocks of sheep [dibé] crossing the road ['atiin], once with a human companion, an elderly woman ['asdzáán], and once only with dogs [[ééch22'í] who weren't quite sure whether they were really dogs [[ééch22'í] or super sheep [dibé]. We just stopped and watched them cross in their own good time. Any excuse to stop here was welcome.

We parked on the side of the road ['atiis] and made lunch while looking out at the incredible landscape through the two "free standing" sandstone buttes, Los Gigantes [Tsé álts'óóz íí'áhí]. We could not have wished for a more perfect place to eat lunch while listening to KTNN. After a while, listening to the lilting Navajo language [diné bizaad] was an essential part of the day [j
], especially hearing Vincent Craig sing "Rita", about the unfortunate experience of a young Navajo boy [ashkii] trying to prove his love for a Navajo girl [at'ééd]. Eventually we had to leave our paradise, after locating several desirable homesites for ourselves, and began the drive down through the mudhills again, stopping several times to collect soil samples, with grays [[ibá] and maroons [di[hi[go doot['izh] prevalent here.

We drove back through Round Rock [Bis doot['izh deez'áhí] and south [shádi'áláh] on Navajo 12 toward Tsaile [Tsé Biihílí]. We stopped again at Navajo Community College [now Diné College] [Diné bi'ólta' hódahgoígíí] to go through the museum which contains very large (8 ft x 8 ft) paintings of the major sandpaintings ['iikááh] used in the Navajo ceremonial chants [Diné binahagha']. These paintings are used as room dividers to break up the large central room into smaller areas where dioramas of Navajo life at different times are shown. After leaving the museum, we visited the museum shop. I was tempted by many things, but restricted my buying to a beautiful [nizhóní], deep blue [yéego doot['izh], ribbon shirt [deiiji'éé] for my two [naaki] year old grandson [bitsóí]. I hope he can find a powwow to wear it to! Lori found a Justin Tso print for her mother [bimá].
We had used a good part of the day [j3] and still had a long way to go to get to Gallup [Na'nízhoozhí]! We continued south [shádi'ááh] on Navajo 12 , past Wheatfields [Tódzís'á] Lake, past an unusual Navajo gate* (there are many! this one had a dinosaur guardian) to the road to Crystal [Tóni[ts'ílí] over Washington Pass. This is the southern pass over the Chuska Mountains [Ch'óoshgai], climbing slowly from the west [ 'e'e'aah] side, cresting at 7400 ft. in a Ponderosa pine [nídíshchí] forest and then rapidly descending through scrub oak [chéch'il nit['izí] to a view of the San Juan basin in northeastern [náhook-s dó&oacute ha'a'aah bita'gi] New Mexico [Yootó Hahoodzo], lit by a rapidly sinking sun [Jóhonaa'éí]. We join US 666 at Sheep Springs [Dibé bito'], after crossing over the wash, we turn south [shádi'ááh] toward Gallup [Na'nízhoozhí]. As we drove south [shádi'ááh] I explained to Lori why I usually choose this route to Gallup [Na'nízhoozhí] rather than driving further south [shádi'ááh] on Navajo 12 to Window Rock [Tségháhoodzání] and then turning east [ha'a'aah] to US 666. That route from Gallup [Na'nízhoozhí] to Window Rock [Tségháhoodzání] has the highest accident rate in the state of New Mexico [Yootó Hahoodzo]. This is because no alcoholic beverages are sold on the reservation (something which is now being debated in the chapter houses ['á[ahná'ádleehgi]), so trips are made to Gallup [Na'nízhoozhí] to buy alcohol, and the drinking usually begins there and continues on the road ['atiin] back. There are vigorous campaigns underway on the reservation to change this behavior, and the drive-through windows at the liquor stores in Gallup [Na'nízhoozhí] have been closed down. Nonetheless, we found many empty and sometimes broken bottles of Garden Tokay "wine" scattered over the rocks and mudhills.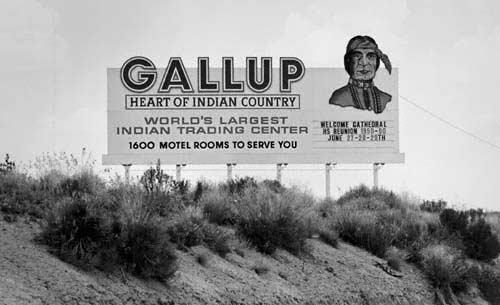 When we reached Gallup [Na'nízhoozhí], we found a motel, and Lori began her search for a secretarial service to type up her job application. There were two main prospects in the Gallup [Na'nízhoozhí] Yellow Pages but, at that time (approx. 6:30 PM MST), the first merely had a recording giving their hours. The second was a big success since it was a woman [asdzáán] working from her home. Arrangements were made to drop the job off in the morning ['abíní], and then to get breakfast [abínígo da'adánígíí] at a nearby truckstop while the typing was done. Now we just had to decide where to eat dinner tonight. We did not want to eat at a chain franchise (our biggest option), so we picked a place that promised home style food [ch'iyáán] in their ad and ventured out to figure out the street numbers in Gallup [Na'nízhoozhí]. We drove up old Route 66, trying to read street numbers on dark storefronts. We found our prey amid locked and barred pawnshops, all of which reminded us that Gallup was a border town. We walked into a place that must have been unchanged since the '30's, well, at least since the '50's. There was a fountain half the length of the long, thin room. Above the fountain were painted cutouts of the items offered, burger baskets, chicken [na'ahóóhai bits8'] baskets, french fries, etc. The menus had a variety of home style meals, and we chose something light. For a while we were the only customers in the restaurant [da'adá báhooghan] , but soon we were joined by a mother with a child, a friend of the waitress. The high chair was definitely from no later than the '40's, all squared off wood with decals on the back. When the food [ch'iiyáán] came it was plain but not plastic, and it was really cheap.
We returned to our motel room so Lori could put the final touches on her application. We needed to get up early tomorrow [yisk33go] to drop it off. And, of course, a UMass basketball check was in order.


---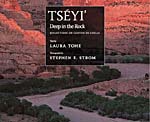 New! Tséyi'/Deep in the Rock: Reflections on Canyon De Chelly,
Laura Tohe and Stephen Strom (photographer), Univ. Arizona Press.
Recommend this website to a friend!
Navajo Spaceships, Star Mountain and Rez Memories, An Online Writing Journal, Prose & Poetry by John Rustywire, Navajo
Antelope House Tours a Navajo owned business offering 4 x 4, horseback and hiking tours of Canyon de Chelly, including overnight stays in the canyon.
A page with information on satellite images of this area is also available.
* The University of Arizona library has an exhibit of western bounday art available online.
Subscribe to American Indian Art Magazine
Arizona Highways

---
References
Jeanne M. Simonelli, Charles D. Winters (Photographer), School of American Research Press.
David Grant Noblei, Ancient City Press.
William M. Ferguson, Arthur H. Rohn, Univ. New Mexico Press.
Navajo Community College Press.
Trudy Griffin-Pierce, Univ of New Mexico Press.
Geri Keams (Navajo), Caedmon Audio Cassette
James M. Goodman, Mary E. Goodman, Univ. Oklahoma Press
Maureen Trudelle Schwarz, Univ. Arizona Press. (Hardcover)
James C. Faris, Univ. New Mexico Press
New Mexico Press
Sol Worth, John Adair, Univ. New Mexico Press
Kathy Eckles Hooker, Helen Lau Running (Photographer) , Museum of New Mexico Press
David Grant Noble, Northland Pub.
Fran Kosik, George Hardeen, Creative Solutions Pub.
Douglas Preston, Univ of New Mexico Press.
Books on Navajo Rug Weaving
Dilys Winegrad, Lucy Fowler Williams, Joe Ben Wheat (Contributors), Univ. of Pennsylvania Press.
Ann Lane Hedlund, Denver Art Museum.
Roseann S. Willink and Paul G. Zolbrod, Museum of New Mexico Press.
Eulalie H. Bonar (Editor), Smithsonian Institution Press.
Music & Videos
Woven by the Grandmothers, WETA/PBS.

Ancient America - The Southwest, Wes Studi.

The Native Americans: The Natives of the Southwest

Electric Warrior, Russell Means, SOAR.
Find more books on the Navajo Tribe.

See the new Desert Places Series from the University of Arizona.

For more books on Native American topics, visit the book archive at the Index of Native American Resources on the Internet.


Visit The Sonoran Desert 5000 square miles of silence.


Back to Day 4

Table of Contents