Day 11 Sunday Albuquerque -- Socorro
Today I wake up determined to do something to help me recover from the feeling of despair and helplessness that has come over me since learning that the Swentzell koshare sculpture was badly damaged.
I had forgotten that it was Sunday morning, since I never know what day it is anyway. When I go to the nearest restaurant, a Mexican restaurant that offers breakfast, I find it very crowded and a line exists to get a table. Since there is nothing else nearby open for breakfast, I decide to wait. The wait for a table for 1 was not very long, but the wait for service was considerable. Unlike any other day of the week, there were many small children present. I have nothing against children, even largish families, as is evident from the dedication, but it is very hard to read poetry in that environment. My reintroduction to the city was coming immediately; I didn't even get a quiet breakfast. Nonetheless, I read a few poems this morning, among which was What Danger We Court.
Since very little was open this early on Sunday morning, I walked around the plaza for a while, window shopping. After about 9:30, when I thought the Pueblo Cultural Center would be open, I drove over there to spend the morning. When I arrived, I was reminded by a sign that they served breakfast there, both more interesting than usual and much quieter. The building is in the shape of a U with the top of the U being a closed entrance to the building. The central area is an open plaza with murals painted on the walls and where dances are performed on weekends. Below ground level is a wonderful museum. This museum is constructed to give the feeling and appearance of being in a pueblo building. As you move from display to display within the curved building, you move from pueblo to pueblo, seeing exhibits of the arts (pottery, painting, sculpture) and craft work (weaving of sashes and mantas). On another branch you can move through the history of the pueblo culture from Anasazi times to first contact with the Spanish to the present time. There is one large model of the Taos pueblo as seen by W.H. Jackson in the 19th century which was reconstructed from his memory (or possibly photographs) after his return home from a trip. While the ceilings are low here, as in the pueblos, the rooms are spacious. You are free to spend as much time as you wish along the way.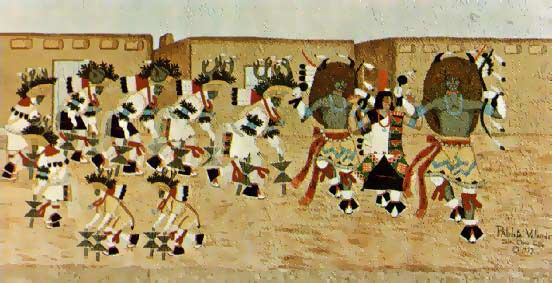 Around the building on ground level is a gift shop, divided into separate rooms which each have their own specialty. The bookshop here is excellent. Other rooms show rugs, pottery, katsina dolls, sculpture, jewelry and souvenirs. There is also a sweets and edibles shop where you may buy Pueblo oven bread and piñon nuts in season. I have made a loaf of the oven bread, which may easily be broken into sections, last almost a week of lunches with just a package of sliced cheese added to make excellent and filling sandwiches.

On weekends (which today is) dance performances are given at 11 AM and at 2 PM in the central plaza. Today the Flying Eagle Dancers will perform. The narrator tells us that all of the dancers have other jobs and must give a considerable amount of their own time to practice and to give performances. he also makes it clear that these dances are not given just for the benefits of the Indian peoples, but as prayers for the benefit of all men. Today he gives a special prayer for the people in Bosnia-Hertzegovina that their time of trouble may soon be over. Only relatively short segments of the full dances are performed between explanations of the significance of each part. The Flying Eagle Dancers are one of 8 - 10 dance groups that give these weekend performances throughout the year.

After the performance ends, I drive over to the Albuquerque Museum of Art and History. This museum does an excellent job of exhibiting not only the historical art of the New Mexico area but also the contemporary art of New Mexico artists as well. I always visit at least once when I am in Albuquerque. There is an excellent permanent collection, some of which is usually on view, as well as an exciting sculpture garden, partially supported by the 1% for Art Program of Albuquerque for public art, containing work by Larry Bell, Luis Jiminez, Nora Naranjo-Morse, (Khwee Seng) (From the Albuquerque Museum)

and Michael Naranjo. They also have a miniatures show every year where all of the pieces are for sale. A silent auction is held on the opening night for the show where you must drop your bid for the item(s) you wish into a box and hope you are the winning bidder. I have seen outstanding work by Elizabeth Abeyta, Nora Naranjo-Morse and Diane Calabasa in these shows. I am never disappointed when I visit this museum.
After the museum visit, many of the galleries and shops in Old Town, around the original town plaza, are open. I first eat lunch, green chili stew, at Zane Graze. When I stop at the Tanner-Chaney Gallery, (now under different ownership) I find that there are some new Elizabeth Abeyta sculptures which are very striking as well as a Randy Chitto turtle storyteller that I fall in love with. But John insists that I visit their other gallery in the Hyatt Hotel to see the Abeyta's and the Chitto's there before making any decisions, so I drive over to the Hyatt to see these pieces and to possibly get confused. But John was right, I did need to see these pieces. In the end I chose the Abeyta Yei sculpture (from the Hyatt store) and the black and white striped, watermelon eating turtle storyteller by Randy Chitto from the Old Town gallery. I put a down payment on these two and knew I was safe now. I could only window shop for the next hour, having already overspent my allowance for art. But I visit my favorite galleries anyway, Including the Penfield Gallery of Indian Arts.
After wandering the Old Town plaza for a while, I decide that it is time to head toward Socorro. The drive to Socorro is straight down the Rio Grande Valley, passing through the Isleta Pueblo and by the town of Belen. Today the drive is especially hard because the wind is blowing a gale, and several sand storms were encountered. The wind finally abated as I neared Socorro, allowing me to reconsider an evening visit to the Bosque del Apache, south of San Antonio. I checked into the motel first, to make sure I had a room. Then I drive south to San Antonio and get to the Bosque while the sun is still above the horizon. The Bosque del Apache is the winter home for hundreds of thousands of geese and cranes and other birds. Tonight I just hurry around the north half of the tour loop to get to the northern end of the refuge to watch the birds fly back from their feeding in the fields north of the bosque.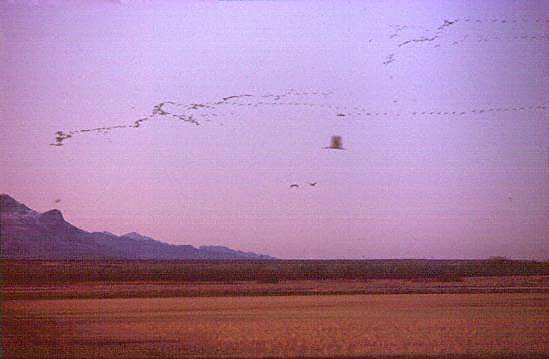 This is a magnificent sight to see the thousands of birds flying over your head back to the ponds for the night. this is not the first time I have been here to watch this homecoming, nor will it be the last.
Because tomorrow is Martin Luther King Day and the astronomer with whom I am collaborating at the VLA will not be in, I can spend the entire day with the birds.
After all the birds have returned home, those of us who watched them in return to our cars and drive back to the exit road. Near the end of the loop, we all stop at the pool there to watch the birds settle in for the night. by this time, we are using the car headlights to illuminate them. Soon this is futile and we all leave the bosque.
Back in Socorro, I settle for dinner at Denny's and retire for the evening. My favorite poem for this evening is Outside a Small House.



---
Subscribe to American Indian Art Magazine
Arizona Highways
New Mexico Magazine
Bird Watchers Digest
Backyard Bird News
Wildbird

Recommend this website to a friend!
References
Clear Light. (Hardcover)
Clear Light. (Hardcover )
Alfonso Ortiz (San Juan Pueblo), Univ. Chicago Press.
Keith Cunningham, August House.
Navajo Community College Press.
David Grant Noble, Northland Pub.
Fran Kosik, George Hardeen, Creative Solutions Pub.
Museum of New Mexico Press. (Hardcover)
Museum of New Mexico Press.
Books by Luci Tapahonso
A Breeze Swept Through, Univ. New Mexico Press.

Sáanii Dahataal: The Women Are Singing, Univ. Arizona Press.

Blue Horses Rush In, Univ. Arizona Press. (Hardcover)

Children's Books

Navajo ABC: A Diné Alphabet Book, Eleanor Schick (Illustrator), Aladdin. (Hardcover)

Songs of Shiprock Fair, Anthony Chee Emerson (Illustrator), Kiva Pub.
Books on Pueblo Pottery
Art of Clay, Lee M. Cohen, Clear Light.

Fourteen Families in Pueblo Pottery, Rick Dillingham, Univ. of New Mexico Press.

Pottery by American Indian Women, The Legacy of Generations, Susan Peterson, Abbeville Press.

Pueblo Pottery Families: Acoma, Cochiti, Hopi, Isleta, Jemez, Laguna, Nambe, Picuris, Pojoaque, San Ildefonso, San Juan, Santa Clara, Santo Domingo), Lillian Peaster, Schiffer Pub.

Santa Clara Pottery Today, Betty Lefree , Univ. New Mexico Press.

Talking With the Clay: The Art of Pueblo Pottery, Stephen Trimble, School of American Research Press.
Books on Birds
The Audubon Society Field Guide to the Bald Eagle, David G. Gordon , Sasquatch Books.

Birds (National Audubon Society First Field Guides), Scott Weidensaul, Scholastic Trade.

How to Identify Birds: An Audubon Handbook, John Farrand, McGraw-Hill.

Western Birds : An Audubon Handbook, John Farrand, McGraw-Hill.

National Audubon Society Field Guide to North American Birds: Western Region, Miklos D. F. Udvardy, John Farrand, Knopf.

National Audubon Society Field Guide to North American Birds: Eastern Region, John Bull, John Farrand, Knopf.

Field Guide to Hawks: North America , William S. Clark, Brian K. Wheeler (Illustrator), Houghton Mifflin.
Find more books on bird watching.
Find bird feeders and books on feeding birds.
Books About Albuquerque
Michael F. Logan, Univ. Arizona Press. (Hardcover)
Bill Jamison, Harvard Common Press.
Nicole Blouin, Falcon Pub.


See the new Desert Places Series from the University of Arizona.



Visit The Sonoran Desert 5000 square miles of silence.




Back to Day 10

Return to the Table of Contents