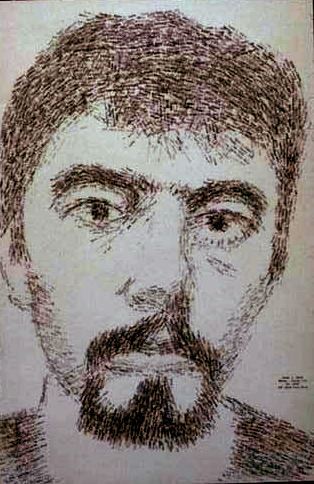 Gerald Clarke was born in Hemet, California, on February 24, 1967, the son of Carol and Gerald L. Clarke, Sr. His father, a member of the Cahuilla Band of Indians, worked as an electrician and Gerald spent his early childhood living on the Cahuilla Indian Reservation near Palm Springs. After his parents divorce, Gerald moved with his mother and siblings to Orange County, California and experienced urban life. At age 16, he moved with his mother and sister to Arkansas and finished high school. As an average student and with little economic resources, Gerald attended Ozarka Vocational School and majored in welding, hydraulics and electrical maintenance. After working as a welder for two years, he decided to try something new. With his soon to be wife, Stacy Brown Clarke, Gerald enrolled at the University of Central Arkansas where he earned a Bachelor of Arts degree in painting and sculpture and graduated with honors. After graduation, Gerald was accepted into the graduate program at Stephen F. Austin State University in Nacogdoches, Texas. After having received his Master of Arts degree in 1992, Gerald began teaching as an adjunct Professor of Art at Lon Morris College in Jacksonville, Texas. The next two years were spent teaching at Lon Morris and working on his Master of Fine Arts thesis which examined the use of traditional American Indian motifs and forms in contemporary sculpture and painting. After receiving his M.F.A. degree from Stephen F. Austin, Gerald became to head of the art department at Northeast Texas Community College in Mount Pleasant, Texas. While at NTCC, he developed the sculpture and exhibition programs. Today, Gerald is an Assistant Professor of Art at East Central University in Ada, Oklahoma. His duties include teaching all levels of sculpture and design, multicultural art history and digital imaging. He also serves as the faculty advisor for the Native American Student Association. In 1999, Gerald's world was completely rocked with the birth of his beautiful baby daughter Emily Jane Clarke.
For the past decade, Gerald has devoted himself to his art and continues to question, experiment and challenge himself and his students.
Click here to see photos of my family!