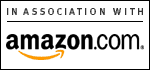 Recommended Books
Here we make it possible for you to order books that have been valuable source works for these websites. As an Amazon.com Associate, a small referral fee which will allow us to keep these websites online will be paid to us. When a book is available through Amazon.com, we will provide a direct link to their listing for the book, allowing you to place an order at that time. The listings from the Amazon.com website will appear in a second browser window on your monitor, allowing you to easily move back and forth between this site and the Amazon site. I hope that this will make ordering from our booklist easy for you.
The Amazon.com bookstore offers you a secure server, encrypting any information that you send to the site, rapid response, email updates on the status of your order, and a wide range of shipping options. They also have available email notification services that you may tailor to your own reading preferences.
See the new Desert Places Series from the University of Arizona.
The West, in fiction, history, essays and science
Mexico
Native American Literature: Fiction and Autobiography
Collections of Interviews and Autobiographical Essays
Native American Culture
Poetry by Native Writers
Poetry and Stories by Non-Native Authors
Essays