Duane Niatum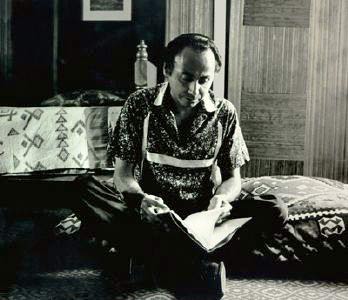 Duane Niatum, S'Klallam [Jamestown Band], was born in Seattle, WA in 1938 and has spent most of his life there. At 17, he enlisted in the Navy and spent two years in Japan. Returning, he completed his undergraduate studies in English at the University of Washington in 1970. In 1972 he obtained an M.A. from Johns Hopkins University. As a graduate student there, Duane taught American and European literature writing seminars. After receiving his Masters degree, he served as editor of the Harper and Row Native American Author Series. He then taught English and literature in high school in Seattle for 2 years and edited the Carriers of the Dream Wheel anthology. He has also worked with the elderly in the Artist in the City program of the Seattle Arts Commission. Recently Duane returned to graduate school and received his Ph.D. from the University of Michigan in the Program in American Culture. In his dissertation, he discusses the life and art of the Aleut sculptor, John Hoover.
Duane has taught as a Visiting Instructor at The Evergreen State College in Olympia, WA, the University of Washington, Eastern Washington University, Seattle Central Community College, Western Washington University, Northwest Indian College and the University of Michigan. In addition he has held a Visiting Instructorship at the Foundation Scholaire et Culturelle Internationale Complexe de Valbonne in Valbonne, France. He has been a teaching curriculum developer, History and Culture of the Northwest Coast Indian, in the College of Education at the University of Washington and an assistant librarian in libraries at the University of Washington and the New York Historical Society.
Duane has worked in the Poets in the Schools programs in Arizona, New Mexico, Oregon and Washington. He has given numerous poetry readings, including the Portland Poetry Festival, the Anacortes Arts Festival, Phoenix Indian High School, the University of California at Berkeley. He has held residencies at the Millay Colony for the Arts in 1976 and at Yaddo in 1977. He has been invited to read at the International Poetry Festival in Rotterdam, The Netherlands and at the Library of Congress. Besides judging poetry for the Washington Poet's Association and the King County Arts Commission, he has served as guest editor Pacific Search in 1975, Niagara in 1976, and Western Edge in 1978. His poetry has appeared in over 100 magazines and newspapers, including Prairie Schooner and The American Poetry Review, and over 40 anthologies. It has been translated into thirteen languages, including Dutch, Macedonian, Russian, Danish, Polish, Icelandic and Frisian.
At this time Duane has a manuscript, For Her With No Regrets and Other Stories, circulating among publishers. The Pull of the Green Kite has recently been accepted for publication by a university press. He is currently putting together a collection of essays to be sent to a publisher in Colorado.
A short biography from the Internet Public Library's Native American Author's Project is available.
Duane has a chapbook, Journeys that Criss-Cross Darkness and Light, that is available directly from him.
Awards
First Prize in Poetry Pacific Northwest Writer's Conference, 1966, 1970; Third Prize in Poetry, 1968.
Honorable Mention in Poetry, Scholastic Magazines, Inc. 1968.
Mary K. Dearborn Literature Award, Seattle Music and Art Foundation, 1968.
Governor's Award, State of Washington, 1971.
Carnegie Fund for Authors grant, 1975; PEN Fund for Writers, 1976.
Poetry in Public Places Award, American International Sculptor's Symposium, New York City, 1979.
Poetry in Motion grant award, Allied Arts Foundation, Seattle, WA, 1981.
Songs for the Harvester of Dreams was awarded the American Book Award from the Before Columbus Foundation in 1982.
Nelson Bentley Award, Dept. of English, University of Washington, 1982.
Certificate of Literary Achievement, Book Club of Washington, 1982.
Community Scholar Grant, Smithsonian Institution, Washington, D.C. 1990.
Writing available online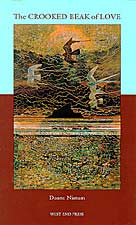 Books by Duane Niatum or containing his work
Journeys that Criss-Cross Darkness and Light, 2004, self-published chapbook.

You may order this book directly.

The Crooked Beak of Love, West End Press.

Stories from the Land of Red Cedar, 1999, self-published chapbook.

self-published chapbook, an edition of 100.

The Green Kite, (Broadside) 1995, Wessel & Lieberman.

Songs from the Storyteller's Stone, 1994, self-published chapbook, reprinted in 1997.

(as Editor), HarperCollins

Stories of the Moons, 1987, Blue Cloud Quarterly, 33, 2.

Raven and the Fear of Growing White, 1983, Bridge Press.

Pieces, 1981, Strawberry Press.

Songs for the Harvester of Dreams : Poems, 1981, Univ of Washington Press.

Digging Out the Roots: Poems, 1977, HarperCollins.

To Bridge the Dream, (story chapbook), 1978, A Press.

Carriers of the Dream Wheel, (as Editor), HarperCollins.

Ascending Red Cedar Moon, 1974, Harper & Row.

Taos Pueblo : Poems, 1973, Greenfield Review Press.

(Cover Illustration by Wendy Rose)

A Cycle for the Woman in the Field, (chapbook), 1973, Laughing Man Press,

(Illustrated by Jane Berniker).

After the Death of an Elder Klallam, and Other Poems, 1970, Baleen Press.

Breathless, (experimental verse drama), first produced at

University of Washington, Seattle, 1968.
Anthologies
Janet Witalec (Editor), Visible Ink Press.

Durable Breath : Contemporary Native American Poetry, John E. Smelcer, D. L. Birchfield

(Editors), Salmon Run Pub.

Blue Dawn, Red Earth : New Native American Storytellers, Clifford E. Trafzer

(Editor), Anchor Books
(Sun Tracks Books, No 29) University of Arizona Press.

The McGraw-Hill Book of Poetry, Robert Diyanni, Kraft Rompf (Editors),

McGraw Hill Text.

The Before Columbus Foundation Poetry Anthology : Selections from the American Book Awards 1980-1990,

J.J. Phillips, Ishmael Reed, Gundars Strads, Shawn Wong (Editors), W.W. Norton & Company. (Hardcover)
Clifford E. Trafzer (Editor)

Dancing on the Rim of the World : An Anthology of Contemporary
Northwest Native American Writing
(Sun Tracks, Vol 19), Andrea Lerner (Editor), Univ of Arizona Press.

American Indian Literature : An Anthology, Alan R. Velie, Univ. of Oklahoma Press.

Brian Swann, Arnold Krupat (Editors), University of California Press.

Native American Reader : Stories, Speeches, and Poems, Jerry D. Blanche (Editor),

Denali Press.

Parole Nel Sangue: Poesia Indiana Americana Contemporanea,

Franco Meli (Editor), Milano: Arnoldo Mondadori.
Craig Lesley, Katheryn Stavrakis (Editor) Dell Books

Wounds Beneath the Flesh, Maurice Kenny (Editor), White Pine Press.

Jamake Highwater (Editor), New American Library.
Joseph Bruchac (Editor), Greenfield Review Press
Simon J. Ortiz (Editor), Navajo Community College Press

Geary Hobson (Editor), Univ of New Mexico Press

Come To Power, Dick Lourie (Editor), Crossing Press.

New and Old Voices of Wah'Kon-Tah, Robert K. Dodge, Joseph B. McCullough (Editors),

International Publishers Co.

First Skin Around Me : contemporary American tribal poetry, James L. White (Editor),

Territorial Press.

The Norton Anthology of Poetry, Margaret Ferguson (Editor), Mary Jo Salter (Editor),

Jon Stallworthy, 4th Edition , W W Norton & Co.
Books Containing Interviews with or Essays by/on Duane
The Transformational Tracks of a Marginalized Life, Paradoxa, V. 6, issue 15, 2001.

Interview with Jean Musser in The Raven Chronicles, Vol.7, No. 3, Winter 1998.

Native American Writers of the United States, (Dictionary of Literary Biography, V. 175),

Kenneth M. Roemer (Editor), Gale Research.

Handbook of American Indian Literature, Andrew Wiget (Editor), Garland Press.

"The Heart's the Actor: A Conversation with Duane Niatum," Gaetano Prampolini,

Native American Literatures: A Forum, 4 - 5, 1992-1993, 81-103.
Joseph Bruchac III (Editor), (Sun Tracks Books, No 15) University of Arizona Press

"History in the Colors of Song: A Few Words on Contemporary Native American Poetry"

in Coyote Was Here: Essays on Contemporary Native American Literary and Political Mobilization, Bo Scholer (Editor), Aarhus, Denmark.
Brian Swann, Arnold Krupat, Brompton Books Corp.
A. LaVonne Brown Ruoff, Modern Language Association.

Native American Literature, Andrew O. Wiget (Editor), G K Hall & Co.

"The Reality of Dreamtime in Some Contemporary Native American Poetry," Anne Bromley,

The Greenfield Review, Vol. 11, Winter/Spring 1984, 18-28.

"A Spinner of Dreams", Eugene Smith, The Greenfield Review, Vol. 11, Winter/Spring 1984, 14-17.

"On Niatum's Songs for the Harvester of Dreams," Jarold Ramsey,

Studies in American Indian Literature, 6, Fall 1982, 6-13.
University of Nebraska Press.

"Word-Magic", Jarold Ramsey, Parnassus, 5, 165-175, 1975.
Journal Articles & Dissertation
Shamanism, Sacred Narratives, The Sea, and The Cedar in the Art of John Hoover, Aleut Sculptor

Ph.D. Dissertation, University of Michigan, 1997.

"Traveling the Road That Once Was You," North Dakota Review, 59, #4, 1991, 55-60.

History Is the Palette, What Colors Inform Their Poems, Wooster Rev., 8, 115-125,

1988 Spring.

"The Mistress of the House," North Dakota Quarterly, 53, Spring 1985, 110-118.

"My Aim as a Writer," Greenfield Review, 11, Winter/Spring 1984, 1-4.

"Net-picking," Greenfield Review, 11, Winter/Spring 1984, 8-13.

"On Stereotypes", Parnassus-Poetry in Review, 7(1), 160-66, 1978.

"Niatum on Niatum," Niagara Magazine, 5, Summer 1976, 5-6.
This is an "official" site in that this page was constructed with the assistance and active collaboration of the poet, Duane Niatum. The website "author" is Karen M. Strom.
© 2004 Duane Niatum and Karen Strom.
---
Return to the Storytellers Frontdoor