Vee F. Browne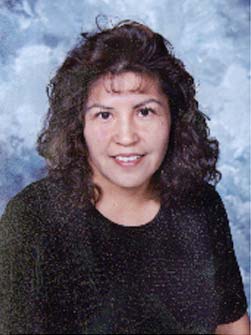 Vee F. Browne is from Cottonwood/Tselani Arizona, and a member of the Navajo Nation, belonging to the Bitter Water and Water Flows Together clans. She obtained her M.A. from Western New Mexico University in 1990. A journalist with the Navajo-Hopi Observer, educator, and fiction writer, she is also an Arizona Interscholastic Athletic Association volleyball & basketball referee,

An award-winning author, she has received much acclaim for her children's books, including Monster Slayer and Monster Birds. Northland Press has published her books on Navajo folktales. Her other children's books are: Maria Tallchief and Owl Book.

In addition, Vee's short stories and poems have appeared in several anthologies and journals. A newly published poetry/prose collection reflecting Navajo heritage entitled Ravens Dancing, 1st Books Library, 2000/01. She is composing her second poetry/prose book entitled Swan Rock.

For scheduling Vee for school-wide authors visitation, engagements, as a panelist for poets/childrens books, or reading poetry, she may be contacted at:

(928) 725-3538 or (928) 380-6120 [cell/voice mail]
or virgo_928@yahoo.com

Writing available online
Awards
Monster Slayer received the Western Heritage - Cowboy Hall of Fame Award in 1991.
Vee has received the Buddy Bo Jack Nationwide Award for Humanitarianism for Children's Books.
Her book, Monster Birds, received the Rounce & Coffin Club - Los Angeles 1994 Western Books Award of Merit.
A short biography from the Internet Public Library's Native American Author's Project is available.
Books by Vee F. Browne or containing her work
Can be purchased electronically as a PDF file [2.6Mby] from 1st Books.
Children's Books
Monster Slayer, Baje Whitethorne, Illustrator, Northland Pub.

Animal Lore & Legend: Owl, HarperCollins.

Maria Tallchief, Harcourt Brace Co., August 2000 - Educational Assessment - Securitied document/ Sunset Charmer, poem

Maria Tallchief, Prima Ballerina, Modern Curriculum.

Baje Whitethorne, Illustrator, Northland Pub.
Review of Monster Birds form Southwest Children's Literature
Order out of print books ffrom Alibris.
Anthologies & Journals
Heid Erdrich and Laura Tohe (Editors), New Rivers Press.
Anna Lee Walters (Editor), Northland Pub.
Clifford E. Trafzer (Editor), Anchor Books
"Legend of Monster Lake".
This is an "official" site in that this page was constructed with the assistance and active collaboration of the poet, Vee F. Browne.
---
Return to the Storytellers Frontdoor