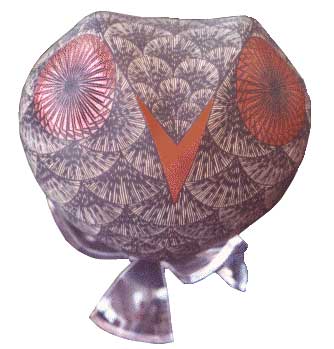 Mike and Jackie Torivio
Back to Tradition
Back to tradition. That's a primary goal for Mike and Jackie Torivio, a husband-and-wife team of potters from Acoma pueblo in New Mexico, and they're striving to incorporate more traditional methods into their award-winning pieces as well as teach younger generations the age-old techniques.
"If we can influence art in a traditional way, our hard work will pay off," Torivio explained. "I come from a family of potters and we've seen a lot of artists burn out because they are mass producing pottery. If artists use traditional methods, they will find that they can make quality pieces that satisfy collectors and themselves, and can slow down and enjoy their work."
The Torivios already collect clay from the earth around the pueblo, and Jackie said that she's working with a variety of natural materials to perfect her paints. They also plan to start firing their pottery outdoors, the way it was done centuries ago.
While she was growing up, Jackie learned the art of pottery making and painting from her grandmother and mother, who would make the pots and outline a design, which she would fill in with a yucca brush. As an adult, Jackie only made pottery for herself until her mother took some pieces to the Acoma pueblo to sell. Her pieces sold quickly and, when she had her first son eight years ago, she decided to stay home and make pottery full-time.
Mike Torivio didn't begin making pottery until he was an adult, and without his wife's influence, he probably never would have begun working with clay. He explained that one day they were at Jackie's mother's home, and there was some clay prepared. He sat down and made a pot, and they were impressed to see how fast I had learned," said.
Today, Mike forms all the pottery including wedding vases, clay jewelry and clay vessels in a variety of shapes and sizes, ranging from tiny one-half-inch size pots to larger pieces. No matter what its size, Jackie spends hours painting exquisite, detailed designs on each piece, drawing inspiration from the pueblo traditions she learned as a child, Jackie said she takes her traditional designs an extra step by making them more intricate, yet the meaning still is the same.
The Torivio's journey back to traditional pottery has taken a few turns -- one in 1990 when they stopped making pottery because Mike was appointed as a spiritual leader at the pueblo for one year.
"When I'm making pottery, that (experience) comes back to me," Mike said. "I was the youngest of all the men and one was a potter, and after we got through with religious ceremonies, he taught me to execute large ollas and make pots thinner. I believe that my success as a potter today is my reward for putting my work down for a year for the good of the pueblo."
Although the Torivios don't measure their success with awards, they've collected many top honors at shows throughout the country, including The Heard Museum's Guild Indian Fair & Market. They also were the first Native Americans picked for the Washington Craft Show put on by the Smithsonian Women's Committee.
"We like to set a relaxed pace -- it makes us more creative and we enjoy our work," Jackie said. "If we teach younger generations to make Acoma pottery more valuable, going back to how our ancestors did it, that's our highest award."
Richard Pearce-Moses
Photograph Archivist
The Heard Museum
22 E Monte Vista
Phoenix 85004

---
Return to the Index of Indian Artists