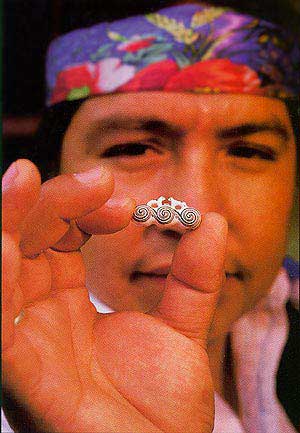 Thomas Natseway
The miniature pottery executed by Thomas Natseway is truly unique and certainly breathtaking. Thomas uses native Acoma clay that he gathers with the help of his wife, Charmae, and his mother-in-law, Ethel Shields, both well known potters. The clay is mined from a large sandstone deposit some distance from the pueblo.
Thomas first decorated his pottery with Acoma designs using fine geometric lines. He began doing research on the old Mimbres and Zuni motifs which he uses to a great extent now. To Thomas these designs are much more intricate and challenging. He uses elements and designs from several different cultures. All of his pots measure less than an inch in diameter.
Natseway admits that half of the work is in forming the pot and the other half is in painting the pottery. All of his paints are natural colors, and he uses Charmae's old brushes which have only a few hairs left in them. After trying yucca brushes he decided they were too thick since it only requires a drop of paint to cover an entire pot.
Thomas paints with the naked eye - no glasses or magnification of any kind. He depends on his draftsman's skills that he learned at school in Dallas and varying light intensity to create his designs on the pottery.
Thomas credits his wife, Charmae, and her mother, Ethel Shields, with tutoring him in the art of pottery making which he began in 1979. He was born on April 19, 1953 to Pete and Betty Natseway at Winslow, Arizona. His father, a pipefitter, was transferred to Dallas, Texas where the family of eight boys and three girls lived for eleven years. So far the other siblings have not taken up the art of pottery making.
Natseway has received many awards over the years. Most recently he accepted 1st, 2nd and 3rd place awards at the 1990 Indian Market in Santa Fe. He thoroughly enjoys his work and has become one of the finest miniaturists in this part of the country.
---
If you have a VRML 2.0 compliant viewer/plugin installed with your browser, there are now available 3 VRML (Virtual Reality 3D models) models of pots made by Thomas Natseway. By selecting one of the choices in the list below, you may see these models and examine the pots.
The models were developed using SGI's Cosmoplayer and, unfortunately can not be guaranteed to look the same on other VRML viewers/plugins.
To view the VRML exhibits, you must have a VRML 2.0 compliant plugin or helper application installed in your browser. These VRML models were developed using the CosmoPlayer 2.1. Unfortunately, you may also have to upgrade your browser in order to use this plugin.
---
To the exhibit of Charmae Shields Natseway's work
Return to the Index of Artists