Glendora Daubs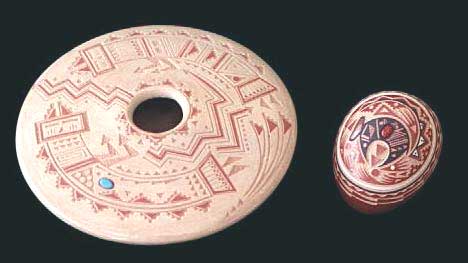 Glendora Daubs was born into a family of artists at the Pueblo of Jemez, New Mexico. When she was growing up she watched her mother, the famous potter, Juanita Fragua, making her lovely pieces, and in 1974, at the age of 16, Glendora also began working with the clay.
Unlike her mother who makes traditional Jemez painted designs on her pottery, Glendora began experimenting with the sgraffito, or scratch technique. The design is created by scratching away part of the polished surface of the pot. This is the most difficult of all decorating methods, but Glendora has mastered it. Her work shows a delicacy and sophistication unusual for an artist of her age.
Glendora has won many awards in prestigious shows all over the southwest, including first place ribbons at Indian Market in Santa Fe and at the Eight Northern Pueblos Arts and Crafts Show.
Her work is shown at the Mudd Carr Gallery and at Packards in Santa Fe, at the Magic Mountain Gallery in Taos, the Robert Dean Gallery in Scottsdale, AZ,the Penfield Gallery and Andrews Pueblo Pottery in Albuquerque and Grey Dog Trading Company in Tucson.
If you have a VRML 2.0 compliant viewer/plugin installed with your browser, there is now available a VRML (Virtual Reality 3D models) model of a pot made by Glendora Daubs. By selecting from the list below, you may see the model and examine the pot.
To view the VRML exhibits, you must have a VRML 2.0 compliant plugin or helper application installed in your browser. These VRML models were developed using the CosmoPlayer 2.1. Other plugins may also be available, depending on which platform you are working.
---
Return to the Index of Artists